Post: Boundary Cable Free Robot Mower
---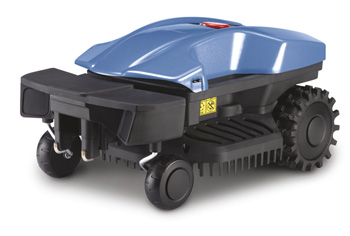 The I100R is Wiper's answer to greatly simplifying robot mower installations. Thanks to its smart onboard navigation system with Artificial Intelligence and Radar technology these robots can identify and avoid obstacles, identify grass and borders. There is no need to install boundary wire all around the edge of the lawn, making installation very simple and quick. This new generation robot is ideal for gardens up to 1,000 square meters (0.25 acres).
Other wireless robotic mowers often rely on external data from GPS systems to achieve this which comes at a great cost. The Wiper I100R is premium mower that can maintain the grass in a good sized garden with minimal fuss and cost.
Once it has finished a mowing session the robot automatically returns back to the charging station to recharge ready for the next scheduled mowing cycle. To do this it needs a guide wire in the garden leading to the charging station. The charging station is, just as the robot itself, very compact with a small footprint so will look good in any garden.
The powerful 5Ah Lithium-ion battery allows the mower to work for 4 hours. This is much longer than most other robots capable of maintaining the same size garden. The result is that the mower can maintain your lawn in less time, leaving you with more time to enjoy the garden mower free.
Change the way you mow your lawn with this extremely smart, small but powerful robot from Wiper.
For the best operation it is recommended to have well-defined lawn edges for the quickest lawn-edge detection.
NOTE: This robot is not suitable for gardens with drop borders.
Best ways to delimit the lawn borders
Solid wall, fence or other structure with a minimum height of 15cm
Dense hedging at the lawn border
Patios or any flush solid surface of 25cm width or more.
Stone or concrete pathways flush with the lawn of 25cm width or more.
Any solid raised edge higher than 15cm.
If your lawn has dropped border edges, you will need one of the above edges between the lawn and the drop. Alternatively you might want to consider the Wiper Blitz series for smaller lawns (up to 400m2) or other models in the I Series range which use a perimeter wire to keep the robot within the boundaries of the lawn.